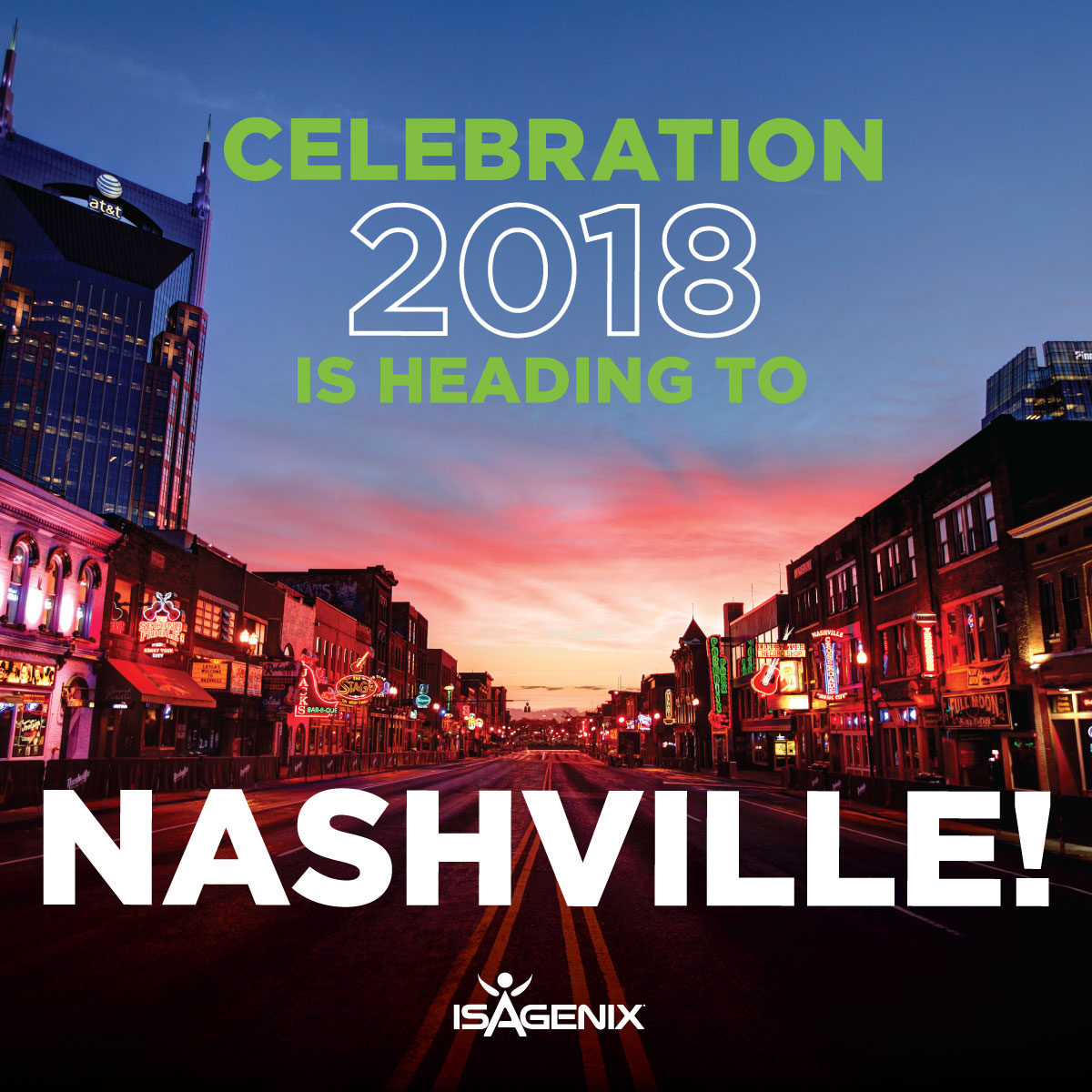 Since nearly 15,000 Isagenix Associates have enjoyed their experience in Las Vegas for the biggest and most exciting event of the year, Celebration 2017, we are already starting to think ahead to next year's event. Every year, our goal is to bring you the very best training. The most revolutionary products. The most mind-blowing entertainment. The most glamorous receptions and parties. And the BEST venue and location.
We are so excited to announce that Celebration will be headed to Nashville, Tennessee, in 2018! Full of culture and history, there is no better place to bring our Isagenix family together to grow both personally and professionally.
We want you to join us next year in Nashville! Tickets for Celebration 2018 are on sale now!  Make sure you purchase your tickets before Aug. 31, 2017, to get them at the BEST value of $149. Starting Sept. 1, 2017, ticket prices will increase to $199, so you don't want to miss out on these early bird prices!
Visit the Isagenix Celebration 2018 website to buy your tickets today.*
Why Attend 2018 Celebration?
Celebration offers you and your team members the chance to come together to reset, refresh, and reignite the fire to share Isagenix and positively impact world health. This three-day event is packed with powerful training sessions led by star-studded trainers who are prepared to share their insight and experience to help inspire and empower you to finish the year strong!
By attending this event, you will be the first to see brand-new products, promotions, and tools launched from stage. PLUS, attendees have the opportunity to attend several parties, receptions, and recognition ceremonies, like the prestigious Gala Awards, START Party, and more.
You won't want to miss this amazing event! Visit the Isagenix Celebration 2018 website to purchase your tickets for only $149! And be sure to share with your friends and team members and encourage them to register soon because this event will sell out fast!
*Each Member ID may purchase a maximum of five (5) tickets to Celebration 2018.