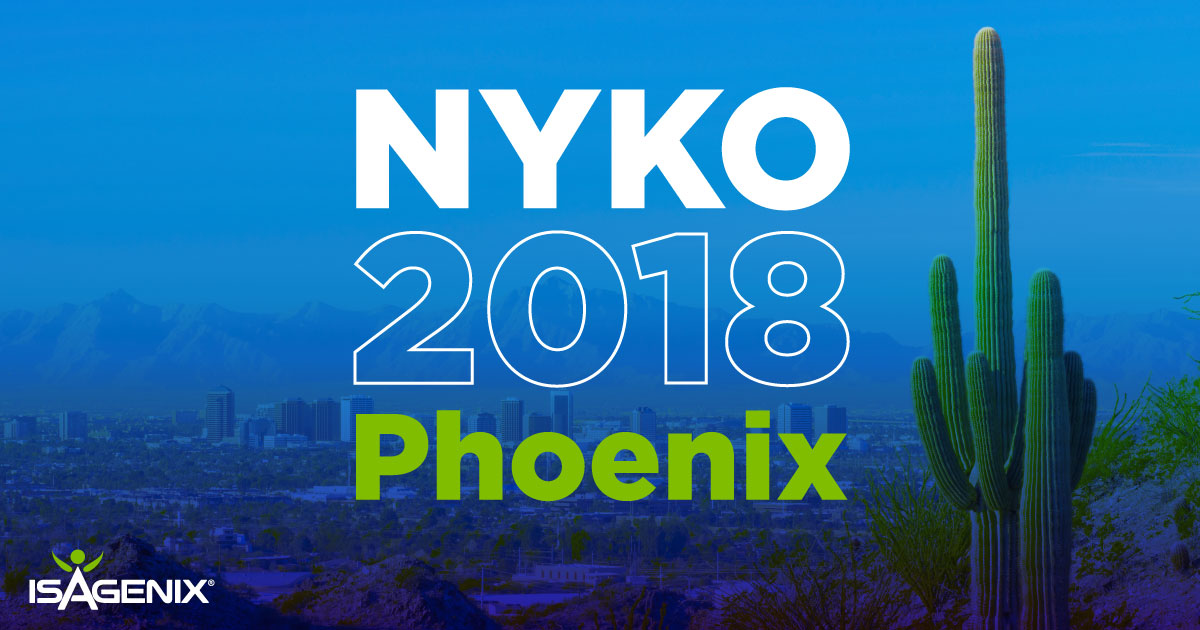 If starting or growing your Isagenix business is on your to-do list, then you really should attend New Year Kick Off Jan. 11-13, 2018, in Phoenix.
This event begins each new year with vital information, wisdom, and plenty of fun to make 2018 your best year ever. NYKO provides you with the perfect learning, teaching, and networking environment, where three days can make a world of difference for this year and beyond.
5 Reasons to Attend NYKO 2018
Affordable: Register today for this incredible event for only US$199. You can also take advantage of special room rates at the host hotel or preferred hotels nearby within easy walking distance of the Phoenix Convention Center.
World-class training: Who better to learn from than those who have walked in your shoes? Every onstage trainer – including Isagenix Owners Jim and Kathy Coover – began with their own stories and dreams. Each trainer's journey is unique, but they built their businesses using duplicable styles and strategies. These journeys and lessons learned make them perfect candidates to step onstage and share their knowledge, expertise, and experiences so you can set the stage for your best year yet.
Find out who your NYKO 2018 trainers are!
Climate of culture: Besides soaking up information, insight, and strategies that can change your life direction, you'll be immersed in a palpable energy that is invigorating, inspiring, and contagious. It's an unforgettable experience! Tour our beautiful headquarters in Gilbert, Arizona, Thursday morning (Jan. 11), and see the Isagenix products, culture, and philosophy in action.
Networking works: Spend three days surrounded by thousands of fellow Isagenix product users and budding entrepreneurs who want to make new friends and foster business relationships to help your business flourish. Come be part of #OneTeam.
Sharing is caring: Teamwork makes the dream work at Isagenix. Learn from some of the best in the network marketing business. Share your knowledge, experience, and success with others. Or sit back, open your ears, and soak it all in. You might inspire others – and they'll probably inspire you – to help change lives.
Register today to make 2018 your best year ever! 
Can't Make It to NYKO 2018? Tune In From Home!
If you can't make it to the event, IsagenixLive™ is bringing New Year Kick Off right to your home Thursday, Jan. 11, 2018, through Saturday, Jan. 13, 2018! For $50, you receive access to the full event, including dynamic training sessions with Jim, Kathy and Erik Coover as well as Isagenix top leaders and inspirational testimonials from Associates like you. PLUS, with your ticket, you can watch the training on demand for 90 days after the event so you can relive the excitement! Click here to purchase your ticket.