At Isagenix, we're proud to offer our Associates every tool they need to make their business successful. Because, as Kathy Coover says, "If you're successful, then Isagenix becomes massively successful."
So if you haven't already heard about these online avenues, check out these five shareable websites.
1. IsaProduct.com – Any product. Any time.
"We've given IsaProduct.com a facelift," says Kathy. "We wanted to make it easier for you and your customers to navigate and find all of the amazing products we have on the website."
We have categorized products into our four solutions: Weight Loss, Energy and Performance, Healthy Aging and Skincare. So, you can click on the visual box to find whatever solution interests you the most.
IsaProduct.com is also filled with new links for easier access instead of struggling to search through the website. On the top, right-hand of the page, there's an easy-to-access link to "Isagenix Products." This amazing resource is your automatic list to every Isagenix product. Even better, all the go-to links are located on the same side panel.
"Instead of searching through the website, we have enhanced IsaProduct.com to have faster access to training and product coaching," shares Kathy. "It's right there on the side panel, so you don't have to search for it."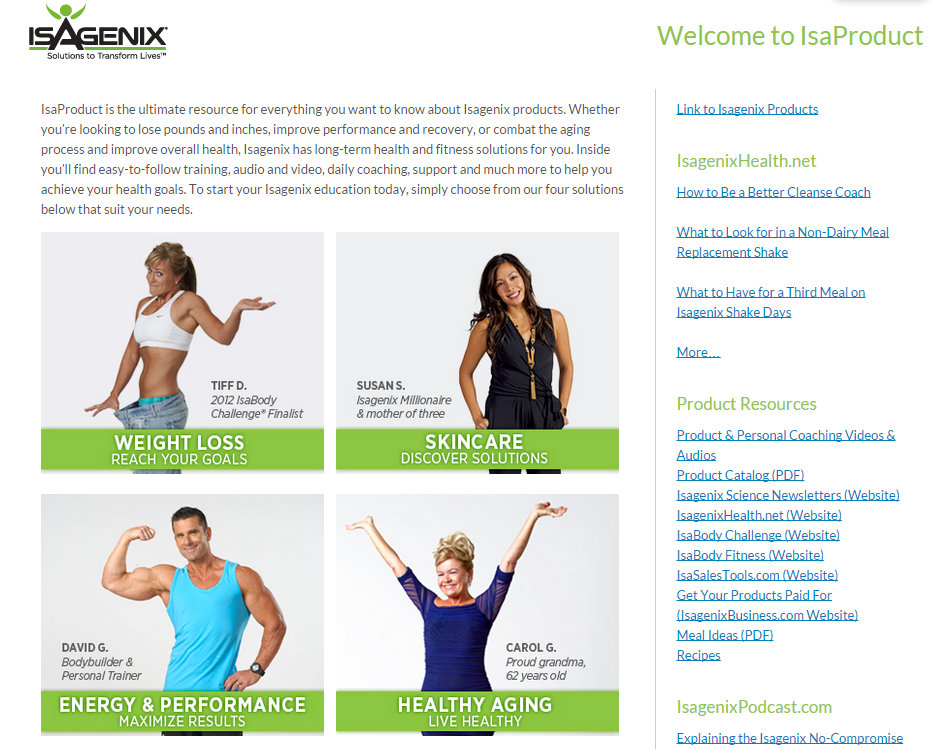 Watch Kathy explain the new and innovative website:
https://www.youtube.com/watch?v=vcN0yFL2sUI&feature=youtu.be
Get more of an in-depth breakdown on the new look of IsaProduct.com.
2. IsagenixBusiness.com – When it's tough to be social from home.
Just starting out with Isagenix and wondering where to begin? IsagenixBusiness.com is your one-stop shop. Learn the basics that get you earning right away and how to get your products paid for through  "You+Two, Them+2." Gather all the training tools you need to learn the in's and out's of your Isagenix professional networking business to build your team. At IsagenixBusiness.com, there's always a useful tool to share with your team. For instance, download the 90-Day Game Plan to help create your unique vision and path with your team.
And of course it doesn't stop there. There are a bevy of different tools to expand your Isagenix knowledge with downloadable flyers, audios and podcasts and mobile apps.
3. IsaMovie.com – From your home theater to your hand theater.
IsaMovie.com is an amazing, visual source for motivational life transformations relatable to all. From working moms, baby boomers, Gen XY athletes, health professionals and top income earners, discover what makes Isagenix different from any other company in an easy-to-watch format. Share these videos on your social media outlets or with prospective clients via email to offer a real-life visual of Isagenix opportunities.
Here's a teaser of what IsaMovie is all about:
https://www.youtube.com/watch?v=AGuVoE8NbMM
4. TeamIsagenix.com – Motivation on the go.
The latest Isagenix website is specifically tailored to those looking to gain an athletic edge. If you're already an athlete, or looking to become one, filter through the images and personal bios of Isagenix elite athletes. Even better, click through to learn which Isagenix systems and programs fuel their performance for optimum energy. Take the time to discover the science behind the products at the "Athletes Blog" and hear real-life stories of these hard-working individuals.
5.  StartYourLife.com – Stay in the know while staying active.
Looking to break free from the 9-to-5 mold? Pave your own path toward financial health! At Isagenix, we have a specific group for adults ages 18 to 35 called the START group. At StartYourLife.com, learn the successes of START ambassadors and how they built their Isagenix businesses. Under the "Tools" section, listen to real-life success stories and check out the hottest events to build your Isagenix business and surround yourself with like-minded individuals.