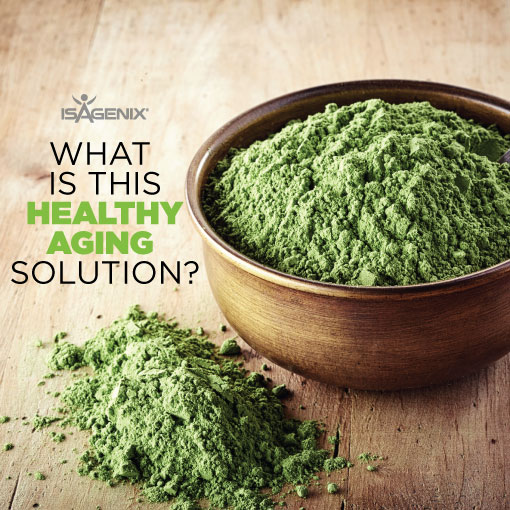 Colorful whole fruits and vegetables are essential to a healthy, balanced diet. That's why dietary guidelines suggest we eat between five and 13 servings of fresh fruits and vegetables each day. Unfortunately, most U.S. adults are lucky to eat 2-3 servings daily, leaving a gap in the nutrients needed for an ideal diet.
Every adult should get the proper amount of daily phytonutrients, but the need for whole fruits and vegetables is even more important as you age. Research shows that a nutritious diet for older adults helps maintain bone density, prevent muscle loss, and sharpen brain function. That's why Isagenix Greens™ is our Product in the Spotlight and the perfect complement to your daily intake of whole fruits and vegetables.
1. A Fantastic Taste
Unfortunately, many people will avoid vegetables because they simply don't like the taste of them. Americans are surrounded by junk food loaded with sugar and salt that can make fruits and vegetables taste bland in comparison. Isagenix Greens has a delicious, naturally sweet taste without any added sugars or artificial sweeteners and is a tasty addition to your IsaLean Shake.
2. Filled With Phytonutrients
Isagenix Greens contains a proprietary blend of phytonutrients from more than 30 premium vegetables, herbs, and botanicals. But what is a phytonutrient and why does it matter? Phytonutrients are simply chemicals produced by plants to help them stay healthy. For example, phytonutrients protect plants from insects or UV rays from the sun. When they're part of your diet, phytonutrients can provide antioxidant characteristics for the body.* Greens is packed with phytonutrients our bodies may be missing by not eating enough fruits and vegetables.
3. IsaLean Shake Booster
A high-protein diet is essential to supporting muscle loss prevention in older adults, and Isagenix Greens is a great way to fight "flavor fatigue" when IsaLean Shakes are part of your daily routine. Just one scoop of Greens in your IsaShaker™ or IsaBlender® doesn't just add a fresh taste to your shake, but also a boost in beneficial phytonutrients.
There is no better time to add Isagenix Greens to your Autoship than right now. Not only is it good for you, but it's also good for your business. Visit your Back Office to order Isagenix Greens today.
*These statements have not been evaluated by the Food and Drug Administration. These products are not intended to diagnose, treat, cure, or prevent any disease.