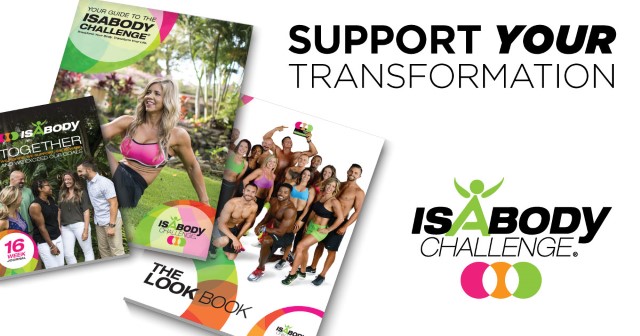 Whether it's your first IsaBody Challenge® or your 15th, transformations take hard work, dedication, and most importantly, support. Taking advantage of IsaBody™ support tools such as the IsaBody Guide, IsaBody 16-Week Journal, and IsaBody Look Book can help you transform your body, build your business, and share your journey.
If you've never participated in an IsaBody Challenge, the first place you will want to start is the new, revised Guide to the IsaBody Challenge. The Guide is a great way to learn how to get started with your Challenge. It will show you the right and wrong way to take your "before" and "after" pictures, explain the judging periods, and describe the prizes you could win for completing the Challenge. The Guide also lists out support tools, such as IsaBody Fitness, the IsaBody Facebook group, Instagram, and Twitter accounts, and the support email, to help you become part of the IsaBody community. Plus, if you flip to the back of the Guide, you can read testimonials from past finalists about how to use the Challenge to succeed.
While participating in your IsaBody Challenge, make sure you use the IsaBody 16-Week Journal daily. Recently, the Journal was revised and now has new, updated recipes so you have healthy food options at your fingertips. It also provides insight into a typical day in the life of 2016 IsaBody Challenge Grand Prize Winner Alvie Shepherd and contains worksheets and activities to help you stay on track and accountable during your 16-week transformation.
Once you have completed your Challenge, flip through your IsaBody Look Book to see all the amazing transformations that IsaBody participants have experienced. Who knows? You might even be featured in the book someday! Showing this tool to others is a great way to share how the IsaBody Challenge can bring successful transformations to every body in every solution – Energy, Weight Loss, Healthy Aging, and Performance! And as one of the best-selling sales tools that Isagenix has to offer, the Look Book can be the perfect way to help you build your business.
So do you want to work toward a total body transformation and change your life for the better? Then enroll in the next IsaBody Challenge! The last day to register for the Celebration judging period is Feb. 28. And for those of you currently participating in the Top Achievers judging period, be sure to mark on your calendars that maintenance photo week is from Feb. 21 to 28. Good luck!