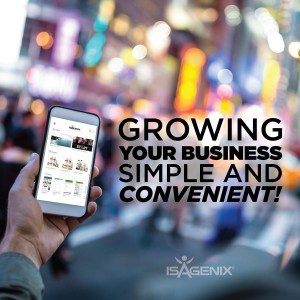 We use our smartphones for everything—connecting with friends and family, email, movies, music, social media, and more—so shouldn't you be able to order your Isagenix products and run your business from the palm of your hand, too? Well, you can!
The tech team at Isagenix has created a suite of apps available for both iPhone and Android that's designed to fit your on-the-go lifestyle. Simply download the below three apps, and your mobile office is ready to go!
Here's how each app benefits you and your business:
IsaOrder™ 
Enjoy easy, one-click access to:
Place wholesale orders
Manage your Autoship
View your order status
IsaPulse™ 
Receive real-time notifications on your team's:
Latest accomplishments
Cycles and Double Product Introduction Bonuses (PIBs)
IsaTools To Go™
Share your favorite Isagenix videos, magazine articles, media tools, and more via text message, email, and social media. Plus, get notified immediately to follow up when your prospect opens the content.
Bonus!
IsaTools To Go is available for $1 for the first 30 days with this special promotion.
Go to MyIsaTools.com/signup
Open the app and select "Monthly Option"
Enter promo code: DOLLAR
Complete account setup then download IsaTools To Go app on the Apple Store or Google Play
Your payment of $1 will give you full access to IsaTools To Go features for the first 30 days of activation. You will be charged $5.95 each following month, which may be canceled at any time.
Download IsaOrder, IsaPulse, and IsaTools To Go at the App Store or Google Play. Visit IsagenixMobileSolutions.com for more information.