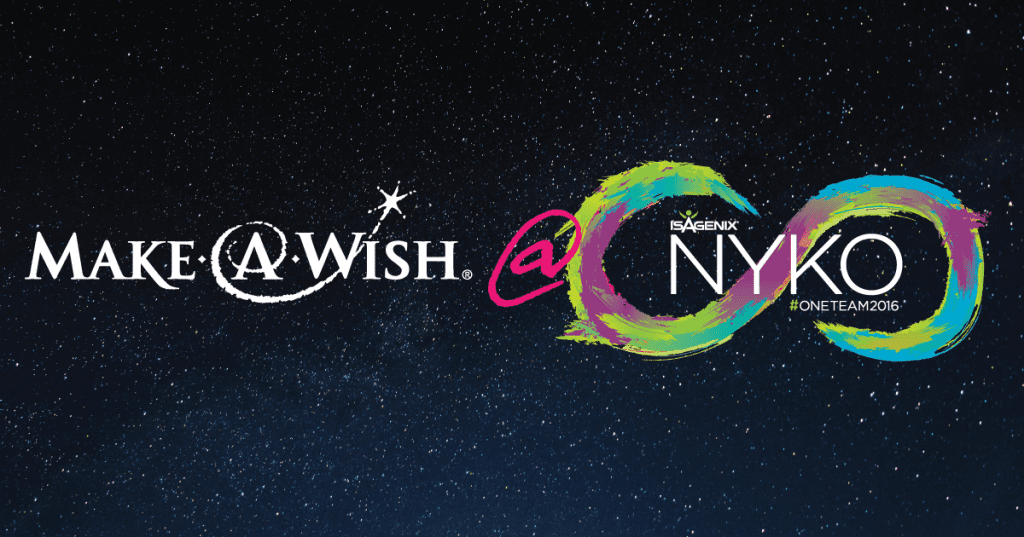 One of the values that drives Isagenix is contribution. Every day our community strives to impact others in a positive way and give back. Year after year, our Associates contribute to deserving causes by generously giving their time, money, compassion, and effort.
Make-A-Wish® is a cause that has been near and dear to our hearts since our sponsorship began in 2012. This incredible organization is dedicated to granting the wishes of children diagnosed with life-threatening medical conditions. Since joining forces with Make-A-Wish, Isagenix has helped bring hope and joy to incredible families fighting these illnesses.
Make-A-Wish fundraising is always a large part of Isagenix events. This year, our generous New Year Kick Off attendees stood together as "One Team" and donated nearly $100,000 to Make-A-Wish!
With the support of our Associates, since 2012 Isagenix has raised over $4.3 million for Make-A-Wish in seven countries, which was enough to help the organization grant more than 525 wishes! And in 2015, we had our biggest year of contribution yet when our Isagenix family raised over $1.8 million!
Meet Wish Kid Tyus
Associates have the opportunity to meet some amazing wish kids and hear their heartwarming stories. At New Year Kick Off 2016, we were lucky to have wish kid Tyus join us in Dallas to share his wish of attending a world movie premiere, granted in April 2014. The 14-year-old has muscular dystrophy, but he doesn't let that slow him down.  A big college and professional football fan, Tyus enjoys playing catch with his dad, waterskiing, and traveling to different states to watch his brother play baseball. He is also a member of his school's student council.
NYKO attendees cheered loudly as Tyus and his parents took the stage. He recounted the premiere for the audience and talked about meeting the stars of the movie. Tyus also showed off his amazing football knowledge onstage, answering a series of trivia questions flawlessly. When asked if being onstage in front of thousands of NYKO attendees is overwhelming, Tyus' response was "It's pretty awesome, actually!"
Make-A-Wish Reserved Seating
Offered for the first time at NYKO 2016, some attendees selected to purchase reserved seating. Not only did they enhance their own NYKO experience, but 100 percent of the funds from the reserved seating benefited Make-A-Wish, raising over $26,400 from that group of Associates alone!
Associates with a reserved seat avoided long lines and the rush into General Session, received exclusive Make-A-Wish goodie bags, secured prime seats, and contributed to courageous wish kids.
Giving Back in 2016
Our goal for the new year is for every Active Associate to donate monthly to Make-A-Wish. It isn't too late to join us! Visit your Back Office and select "Manage Autoship" under the "Orders" tab to make a $1 or more automatic charitable donation on every order. Or you can donate through your commission by simply emailing your name, member ID number, and weekly deduction to IsaWish@IsagenixCorp.com.
Together, we can make 2016 our most charitable year yet and impact the lives of more wish kids just like Tyus!