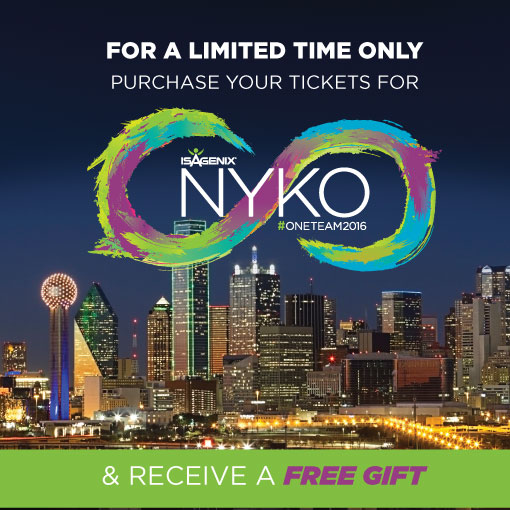 Today we are kicking off our 16-city North American Blitz tour, and while we know not everyone can attend, we want everyone to take advantage of this incredible incentive.
What is it? We're so glad you asked.
During Celebration, Isagenix unveiled Healthy Mind and Body, an innovative, new program custom designed for Isagenix so Associates can achieve and sustain incredible, long-lasting results. We can't wait for everyone to try it, so we created a fun incentive to help you take advantage of this new program.
How the Promotion Works
Purchase a ticket to 2016 New Year Kick Off from now through Sunday, September 20 at 11:59 p.m. ET, and you will receive a coupon to participate in the Healthy Mind and Body program. Valued at US$39.99/CA$44.39, this is an offer too good to miss! Of course, the more tickets you purchase, the more coupons you'll receive.
We recognize that in order to maintain a healthy body, you must maintain a healthy mindset and lifestyle. Healthy Mind and Body is designed to educate you, entertain you, and most of all, empower you to be healthy for the rest of your life.
Redeeming Your Coupon(s)
Coupons for Healthy Mind and Body will be loaded into your Back Office 7-10 business days after Sunday, September 20. Once all of the coupons have been loaded, we will send an IsaMail to each Associate who purchased a 2016 NYKO ticket between September 3 and September 20, alerting them that their coupon is ready to be redeemed. Please note that each coupon code is unique and cannot be used more than once. You will receive one IsaMail with a Healthy Mind and Body code for each NYKO ticket you purchase. You can even gift a coupon code to a team member!
New Year, New You
With an estimated 6,000 Isagenix Associates anticipated to attend 2016 NYKO, this is the perfect time to get your tickets early and start the new year off right—with us. As with all Isagenix events, tickets go fast, and NYKO is no exception!
For more on NYKO, including hotel information, visit NewYearKickOff.com.